My Softwares
Wallpaper Changer- Download
Changes the desktop wallpaper after a given interval of time.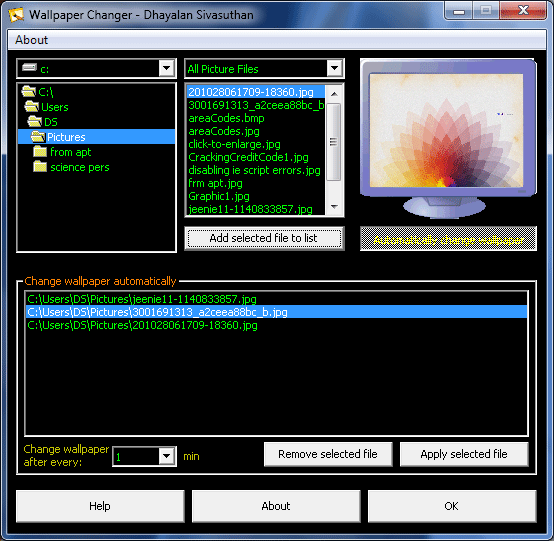 Age In Days calculates the number of days between two given dates. It can calculate the days you have lived up today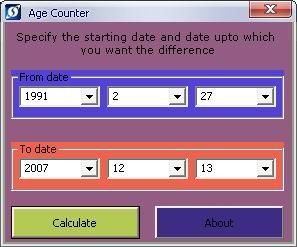 It's just a calculator with some scientific functions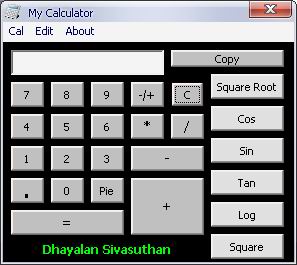 Calendar- Download
It's a calendar which you can even put it in your desktop.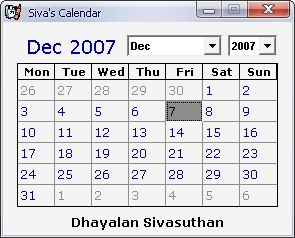 This program designed for my devolopment in Chemistry. I have added three forms, one valency, one for atomicity and the other for symbols of some popular elements. You are provided textboxes in which you have typpe your answer. After finishing answering, you have to just click on the 'results' button, the result will be shown.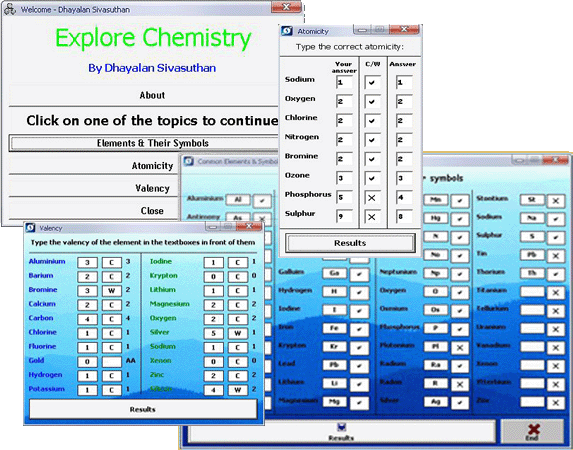 I did this for fun. It just mixes color. You can set the ratio of three basic colors -red, green, blue- and my Color Mixer will mix it for you.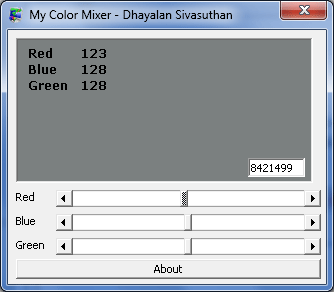 Did You Know - Download
Did You Know, It's full of descriptions.Contains details about almost all scientists and descriptions about things and materials. I got the descriptions from another software.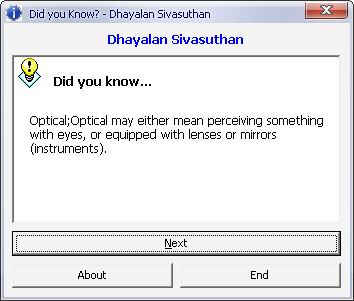 An alternative windows explorer with quick links to mostly used tools in Windows. Contains little tweaks such as IE trancparent view.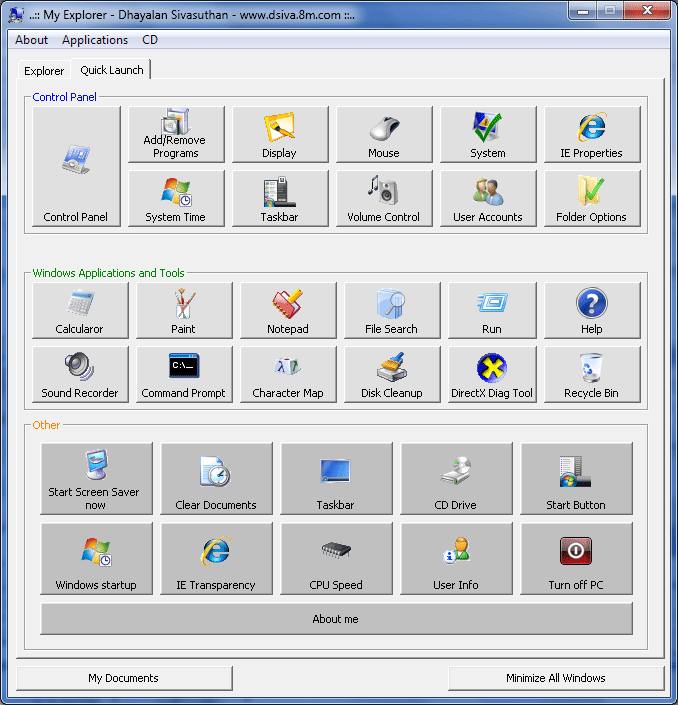 Memory Monitor - Download
Monitors the physical and virtual memory usage of the system. It has a simple mini mode for saving desktop space usage.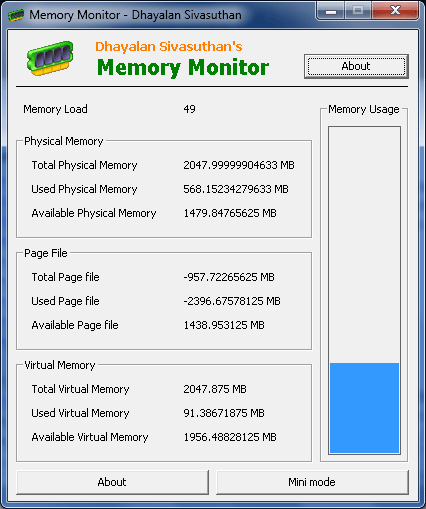 What you have got to do is, * think a number, * add both the digits, * substract the answer from your original number, * find the color for the answer you got after substraction, * Click the 'OK' buuton, My Maths Wonder will tell you the color of the number you thought. Can you beleive??!! I did not have this idea, click on IDEA BY to know who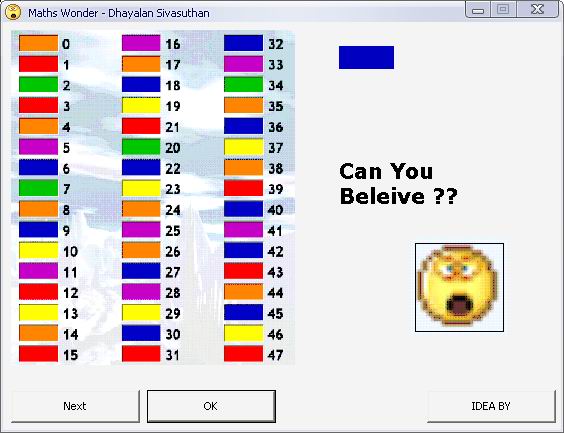 Media Player 7 (small) - Download
A media player capable of playing most common music files - video or audio.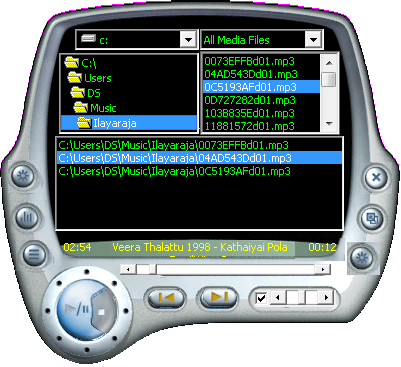 Media Player 6(large) - Download
This can play avi, mpeg, mp3 and wav files very efficiently. And is able to change the rate of the song or we can say playing rate, it might make a sad song to rap song, try it. My media plyer is able to filter the media files can browse to any place in your computer with my built in browser.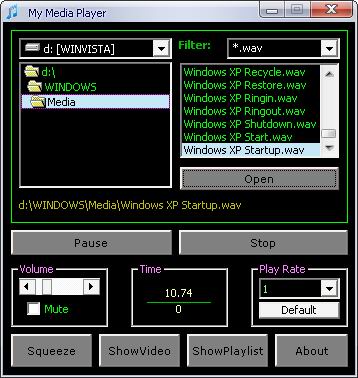 Motherboard Quiz - Download
A quiz program in which you must fill the textboxes with CAPITAL English alphabets representing the components on the motherboard picture. Then click 'Results' .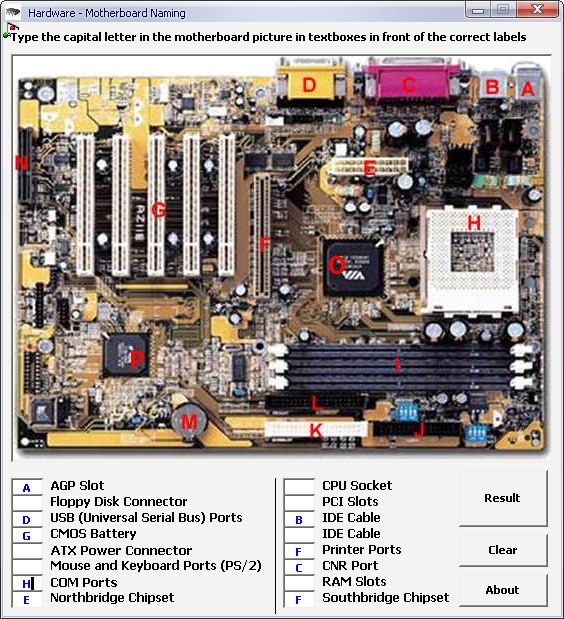 Multiplication Table - Download
You have to type the base value and the end value in the text boxes, My multiplication table will display multiplication table for you.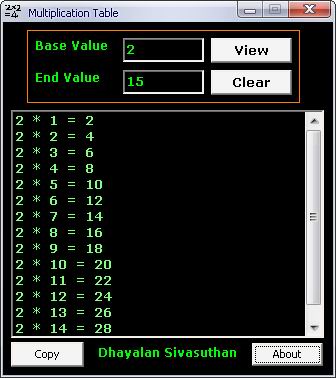 Picture Viewer 2 - Download
Views pictures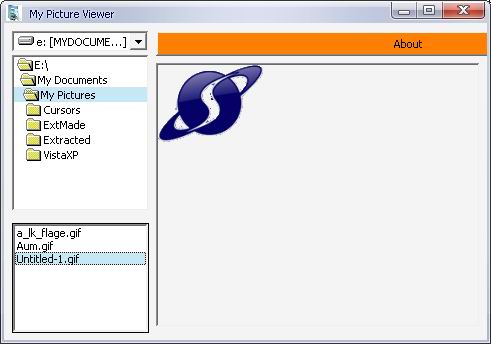 A quiz program, having four sections. Computer Quiz has abbreviations and you have type what the abbreviation stands for. Heart, Digestive system and respiratory quiz sections have pictures unlabeled. you drag and drop the labels in the correct positions.

Sri Lanka Identity Card Reader - Download
This ID reader is capable of reading the National Identity Card of Sri Lanka and is able to whether you gender and is able to tell your year of birth. Iam still working on this software to find the whole date of your birth. Please wait, But softwares like this are found in use.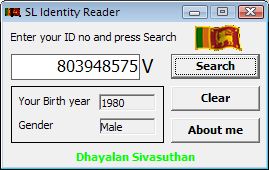 Tamil Keyboard - Download
Using this program you can type Tamil easily without having to find for letters on the keyboard. This I am telling on for those who are not familiar in typing Tamil, Typists can type faster than using my on-screen keyboard. Don't miss undrerstand that my sprogram will type to they place where you cursor active but it will type in the box and you will have copy it and paste it where you want. This uses the font Alankaram which is a standard. But other fonts it may result in other letters.
This program as the Notepad in Windows XP, but it has only less functions. But you can make or open HTML, text or word documents with My Text Editor.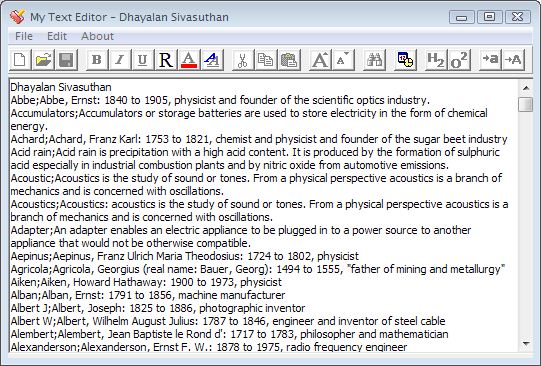 My Timer, if you place in the startup folder, starts when you are switching your computer on, will show the time duration you have used the computer. You can even use it as timer.

Unit Converter 2 - Download
My Unit converter can convert units of standard unit other units or vice versa. It can convert temperature, Area, Lengt, Speed, Volume, Force, Density, Power, Energy, Pressure.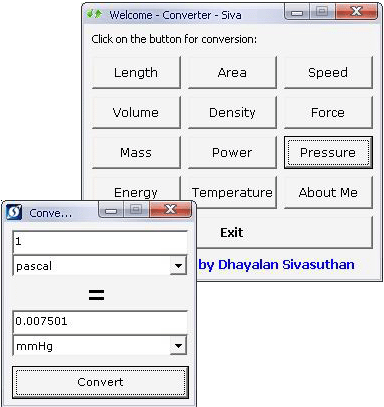 It's just as Internet Explorer but has less features, it seems little faster than IE.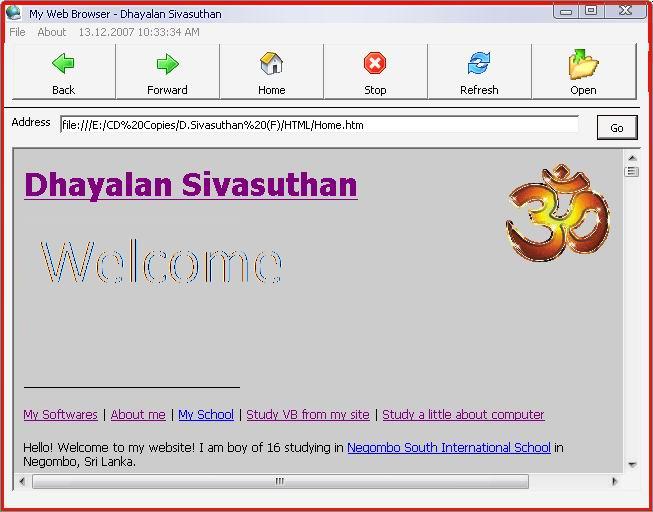 Extracts embedded icons from dll files and saves as bmp files for later use.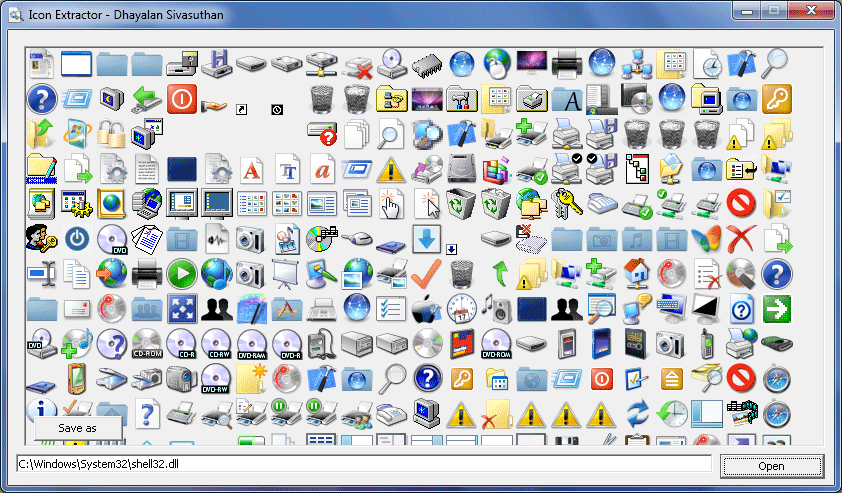 Plays swf files saved locally